I don't know about you but I'm already fed up of the grown up version of "are you ready for Christmas" so I'll skip it. I'll not even try and crow-bar in a reference to my holiday. It's enough for you to know that I will get one. 😉 Let's be useful instead. (Side note, this blog is an edited version of an old newsletter that I send out almost weekly. You can sign up here if you want faster help)
So how do you make easier onine presentations, Simon?
How about a bit of good stuff for online meetings (yeah, them!)?
For a while now, PowerPoint has been able to present "in a window" (see the image for how easy it is to set up) and Apple's Keynote does it too (obviously).
Why would this make for easier online presentations?
Because it's much more convenient than using things in full screen mode, particularly if you don't have the luxury of a second screen. It means you can see everything else that's going on in your computer such as the chat functions and other things you might need. (To be honest, I use this trick even with a second screen!)
For example, I ran an incredibly complicated training session earlier today (seriously, don't ask!) and I had to drop links into the chat at various points in the session. Rather than type them out and bore everyone to death as I inevitably messed up the typing, I'd got them pre-typed (and tested) into a simple editing app that I'd got running… and which I can now see… so I can access it with a simple click of a mouse.
I can't begin to describe how useful it is!
A more common example might be so that you can see the chat window in a Zoom call, and see the window with everyone's faces in much better than the Zoom default. That makes your presentations slicker, as you can respond to chat questions as they arise (assuming you want to, that is!)
There's another reason too… it makes you look cool. How often have you been in a Zoom or Teams session and someone's shared their screen but before you get to see the slideshow you get a screener of their 'backstage'… it means your audience know what's coming and you look a bit amateurish.
By having the presentation constantly running a window, you can start your screen shares with your slides already in display mode.It's awesomely slick. I know, 'cos Dell computers told me so a few days ago 😉
How do you do it?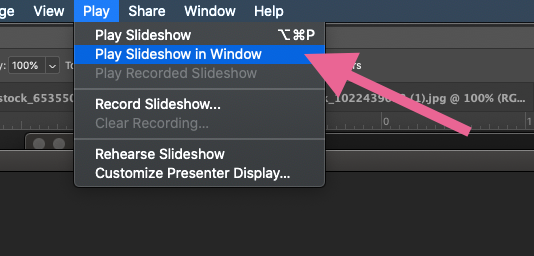 In Powerpoint you get to this option from the "Set Up Show" button in your default ribbon and if you're using Keynote, it's in the Play menu (See the image on the right).
In both cases you can set up to have your Presenter View in a separate window. Life is good!