As Saturday, June 1st is officially #SaySomethingNiceDay, I thought it might be "interesting" to research (and blog about!) something I've personally always found difficult – how to give feedback on a presentation. As that's a significant part of my work as a presentations trainer, it's something I've done a lot of, but I'm not really thinking about that kind of thing.
Nope.
I'm more thinking of the time when you sit through something-or-other-but-you're-not-sure-what from Fred in Finance. He bounds up to you at the water cooler later and grins at you. Your heart sinks…
Pick the right measure of a successful presentation
The thing about presentations is that we tend to judge them by the wrong measures. Because we're all sat in the audience, possibly chewing off our own toe-nails in an attempt to find interest and/or meaning to the presentation and the slides, we judge presentations by how well it kept our interest and entertained us. The thing is, "keeping us entertained" is not (usually) the key metric for a presentation.
Of course, if we're not interested in the presentation it's hard to learn anything from it, so "being interesting enough" is the baseline for a successful presentation, but that doesn't make it how you should measure it beyond that.
What you should do to measure whether a presentation was good or not was to ask two questions:
what was the presentation supposed to do?
did it do it?
If the answer to that question was "yes", then you can go ahead an indulge praising Fred From Finance. Even if you've bitten off three of your toe-nails in the process.
But what about a failed presentation?
So far so good, but what do you do if the answer to the question above was "no"? That rather depends on if your job (or something similarly important) depends on the good graces of Fred From Finance. But let's assume that you want to be reasonably honest and at the same time, reasonably positive?
How should you give feedback on a presentation?
Pretty clearly, the best option here is to get Fred to do a critique of his own work, so that you don't need to be the one to point out the painful to him. And don't forget, you have a moral obligation to help Fred here. Presentations cost your organisation money and morale, so letting Fred continue to get away with it is wasting time and money. Worse, bad presentations reduce the love of life! 😉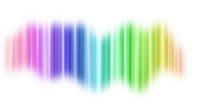 Start with something specific and concrete. For example, you might want to look at the slide's colour scheme.
Once you've picked your "point of entry" for feeding back, go for a question. Use an open question, not something Fred can close down with a simple yes/no. An example might be something like "I love how much work you put into the slide design – what was it that made you pick those colours?".
By couching it in those terms, Fred won't automatically hear what you said as a critisism. Critisism makes people defensive. After all, they've done what they thought was right, and telling people they're wrong is a direct challenge. By asking for more information you open up a conversation about the thinking process involved (assuming their was one! 🙂 ).
The important thing is to work with Fred on the problem, so that he's receptive to change. If you work on Fred as the problem, he'll resist.
Pro-tip – make sure the open question you use isn't "Why?". That's pretty much always taken as a challenge. Compare the question above with "Why did you pick those colours for the slides?".
If someone said that about your slides you'd automatically assume they thought the the choice was a bad one, wouldn't you?
Oh, and don't try to provide feedback on more than one (or two) things at a time. Too much critisism makes people feel like they're being battered by a heavy weight – and they're less likely to take things on board.

… and once you've got Fred talking about his processes, you can follow on with a hidden suggestion. Try something like "Oh, cool. I wondered if it was something like that. Have you come across the colour advice at XYZ?"
When Fred says no, you're in the position of doing him a favour by giving him a tool to make his next presentation even better!
What about triaging the presentation?
Errrmmm… what's triage, Simon? Triage is the act/art of splitting things into three bits:
this can't be helped no matter what
this is on the borderline and can be helped with effort
this is okay and doesn't need to be helped
Side note: triage is originally a medical term, looking at the order in which casualties are to be treated.
In terms of Fred From Finance's presentation this boils down to making sure the feedback you give him is in the middle bit. Don't pick on the colour scheme of slides if it's so damned bad that nothing you can do will save it. Similarly don't feedback on the volume of Fred's voice if it was loud enough for everyone to hear. Instead, pick on something about the presentation that's on the cusp of being good enough – something that, once you improve it – will make a clear difference to how well the presentation goes.
The idea is to pick something that even Fred can see was useful, so that the next presentation is better and which in turn means that the next round of feedback is easier to give.

In short, pick your fights!
Think carefully about which bit of the presentation it's worth giving feedback on and don't just list everything that was wrong!
Have you ever been brutal, Simon?
Yes. That will come as no surprise, for long-time readers. I've walked out on public presenters because they were getting paid – but they were so bloody bad (as presenters, I'm sure they were lovely people) that they were wasting everyone's time. That's rare though. Normally I just find something else to do on my iPhone.
I semi-famously told someone who became a friend of mine "That was by far, the least crap presentation of today." (If you're interested, they held onto that line to use at a presentation of mine recently when I came off stage!)
The point is – and this is personal, not based on research… so ignore it if you want – that by not giving people some help, you're actually doing them a disservice, along with everyone else in the audience.
On the other hand, if you're on the receiving end of feedback, take a long hard look at whether your presentations will benefit from following it!