All the tools you need to help you stand up, stand up and make a much bigger impact!
Start with the Reluctant Storyteller pack – $13 (Buy now)
Storytelling is natural, isn't it? Aren't we all born with the ability to collect and tell stories, and to use them to make an impact?
Nope! Not at all … though some people make it look like that!
Even if you are a bit reluctant, or shy or reserved – and not sure how to collect and use stories – you can learn to be an impactful storyteller. That's exactly what this short email course will teach you.
You've probably heard that telling stories makes you more powerful in your presentations. It's how your ideas can change your world.
So how do you get started? By buying the Reluctant Storyteller pack and getting started straight away.
Buy now for just $13 or Take a look at the Reluctant Storyteller
69 stories challenge – $69
You can't tell or use stories if you've not got a bunch of them ready to go!
Stories are how we learn and how we change the world. We need them in our presentations. Most of us don't use stories for any number of reasons but one of them is just that we don't think we have any.
69stories is a challenge-cum-training programme that helps you collect, catalogue and learn your first 69 stories.. setting you on the road to being what we call not a story-teller, but a story-user.
Presenting Made Simple – $13
This is the E-book I wish I'd read many years ago when I started out as a presenter. It covers, well, almost everything. That's the upside (well, that and the fact it's dirt cheap! 😉 ) but to be honest, the downside is that it's a book. It's a good book, but it's only a book! Honestly, that's the only thing I have against it… though I'm a bit biased, obviously!
Take a look at Presenting Made Simple
Online training course (the full monte!) – £180
If you can't be with us, be with recordings of us!
We've teamed up with New Results to create what we think of as the ultimate in online presentation skills training. It's a whopper, and it covers almost everything we include in our group training sessions (well, not the advanced or customised stuff, but you know what I mean!).
Take a look at our online training
TalkTactics – pay what you like!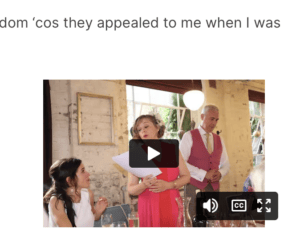 Wow! What can I say! An ever-increasing series of short, tactical tips on how to make better presentations (currently over 30). Each one is a tiny tools for making a better presentation. If each one must makes your presentation 1% better, just think how much the combined effect is!
No, it's not not 30%, it's considerably more 'cos of the compounding effect!
One-on-one time in a clinic
Nothing's as good as the real thing of course… so if you want to get an hour or so with me directly over Zoom, here's your chance. You can book a free coffee-length chemistry check to see if I'm the right person for you or pay for a full session when you're sure!